Agile project management relies heavily on user story mapping, and two leading tools, ProductGo and Easy Agile TeamRhythm, have emerged to assist Agile teams within Jira. As Agile practices continue to evolve, the choice between these tools becomes increasingly important.
Whether you're a seasoned Agile practitioner looking to optimize your workflow or new to user story mapping, this analysis will help you determine which tool—ProductGo or Easy Agile TeamRhythm—aligns best with your team's unique needs.
Overview
ProductGo is a comprehensive tool for Jira that offers Agile User Story Maps, Roadmaps, and Persona. It supports Agile processes such as Scrum, Kanban, Scaled Agile, SAFE, and LESS. It's an integrated solution within Jira, making it a convenient tool for teams already using the Jira platform.
ProductGo is designed to simplify user analysis, backlog management, and project tracking, all from the user's perspective. It helps teams maintain a holistic view of their project landscape and leverage the power of Agile Boards.
Easy Agile TeamRhythm is a highly intuitive, agile solution in Jira that supports your team from planning through to release and retrospective.
The tool transforms the flat Jira backlog into a meaningful picture of work, making sprint or version planning, backlog refinement, and user story mapping much easier. It also includes team retrospectives for Scrum and Kanban boards right alongside your work in Jira.
Interface and Ease of Use
User experience is paramount when it comes to selecting a user story mapping tool for Agile project management. The interface and ease of use can significantly impact a team's productivity and adoption of the tool.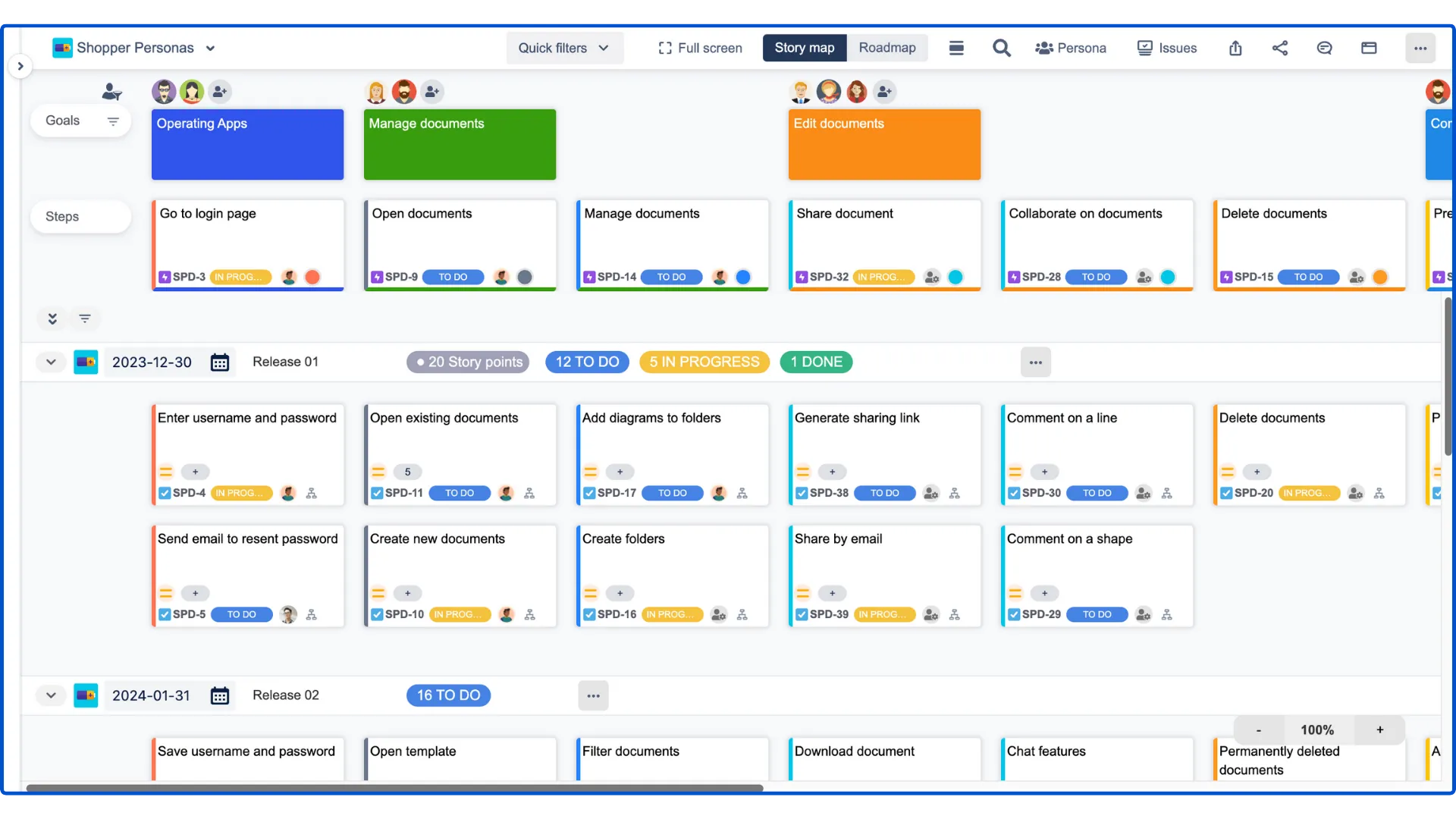 ProductGo has a clean, intuitive, colorful, and user-friendly interface that makes it easy to navigate and use. The drag-and-drop functionality allows for the effortless creation and modification of user story maps, and roadmaps. The visual elements are clear and easy to understand, and the overall design is aesthetically pleasing.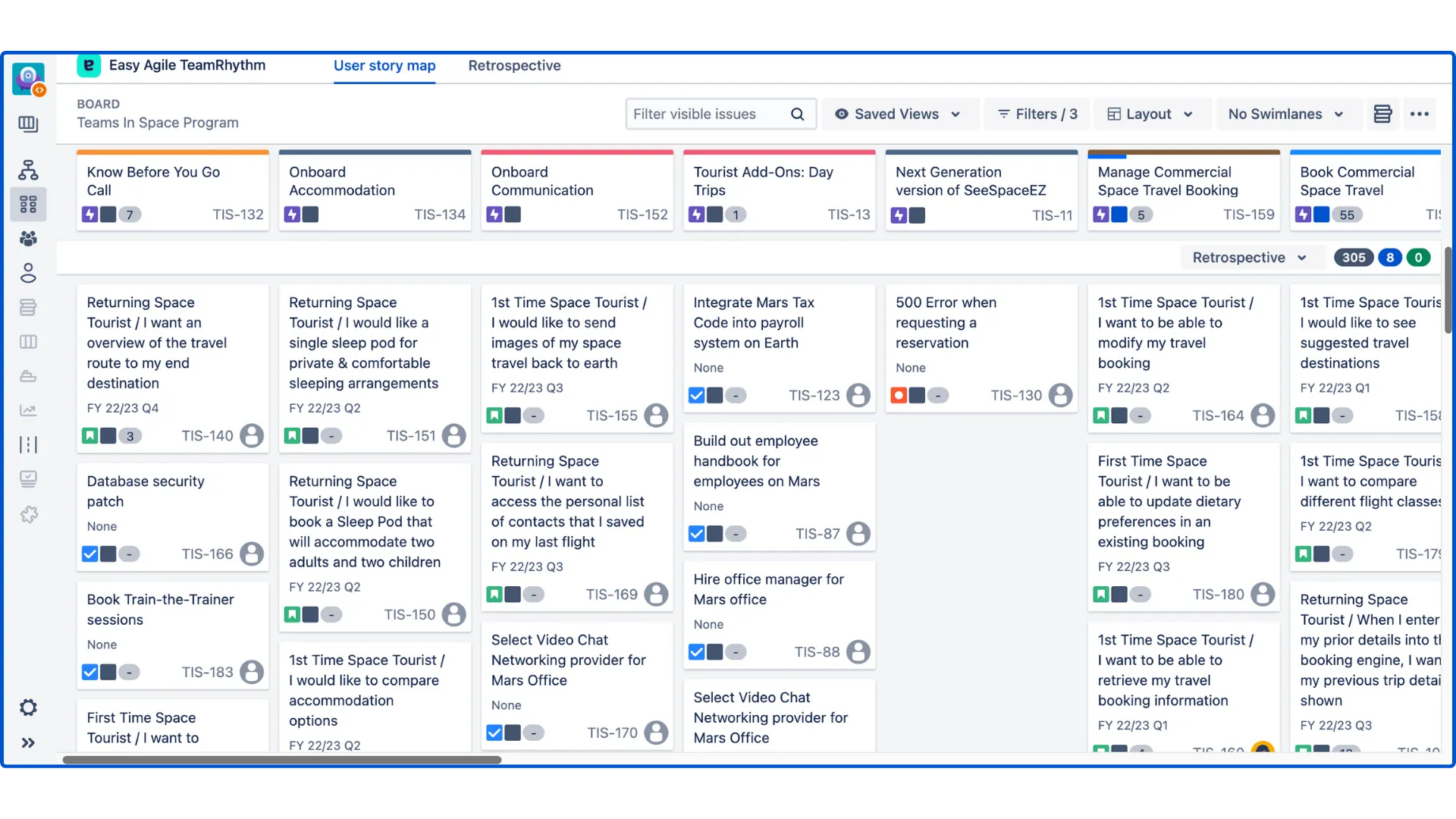 On the other hand, Easy Agile TeamRhythm's user story map user interface is intuitive and easy to use. It provides a clear and organized way to visualize user stories, epics, and initiatives, and it makes it easy to prioritize and plan work. 
User-Friendly Interface
ProductGo and Easy Agile TeamRhythm are built based on the user story mapping technique, therefore they share similarities in the board structure. Both story map boards can represent the story map in 3 levels of hierarchy. However, the story map by Easy Agile must have a little bit of configuration to enable this feature, while the one by ProductGo already has it by default.
Both tools' navigation is structured in a way that makes sense for the way teams work, and it is consistent across all of the tool's modules. This allows teams to easily access and utilize its various features.
Feature and Functionality
When choosing a user story mapping tool, a critical aspect to consider is the range and effectiveness of its features. In this section, we will conduct a comprehensive analysis of the key features provided by both ProductGo and Easy Agile TeamRhythm. 
Project Management
ProductGo is one of the most efficient tools for managing your Jira projects which allows you to create Epics, User Stories, Release/Sprint within the story map board. This board can be shared with stakeholders, ensuring transparency in the projects.
Easy Agile TeamRhytms also can be used to manage your team projects, however, some of the settings will be need to config outside the app.
Persona Management
ProductGo has a built-in Persona feature, which allows users to create and manage personas and then use them directly inside the Story Map board. This can help teams build more user-centered products and solve user problems. 
On the other hand, Easy Agile TeamRhythm does not allow users to attach a user persona to their story map. 
Retrospective
Easy Agile TeamRhythm also includes a built-in Retrospective feature, allowing users to easily access and create a Retrospective meeting after each release/sprint. Retrospective is where the team reflects on what went well, what went wrong, and what can be improved for the next Sprint.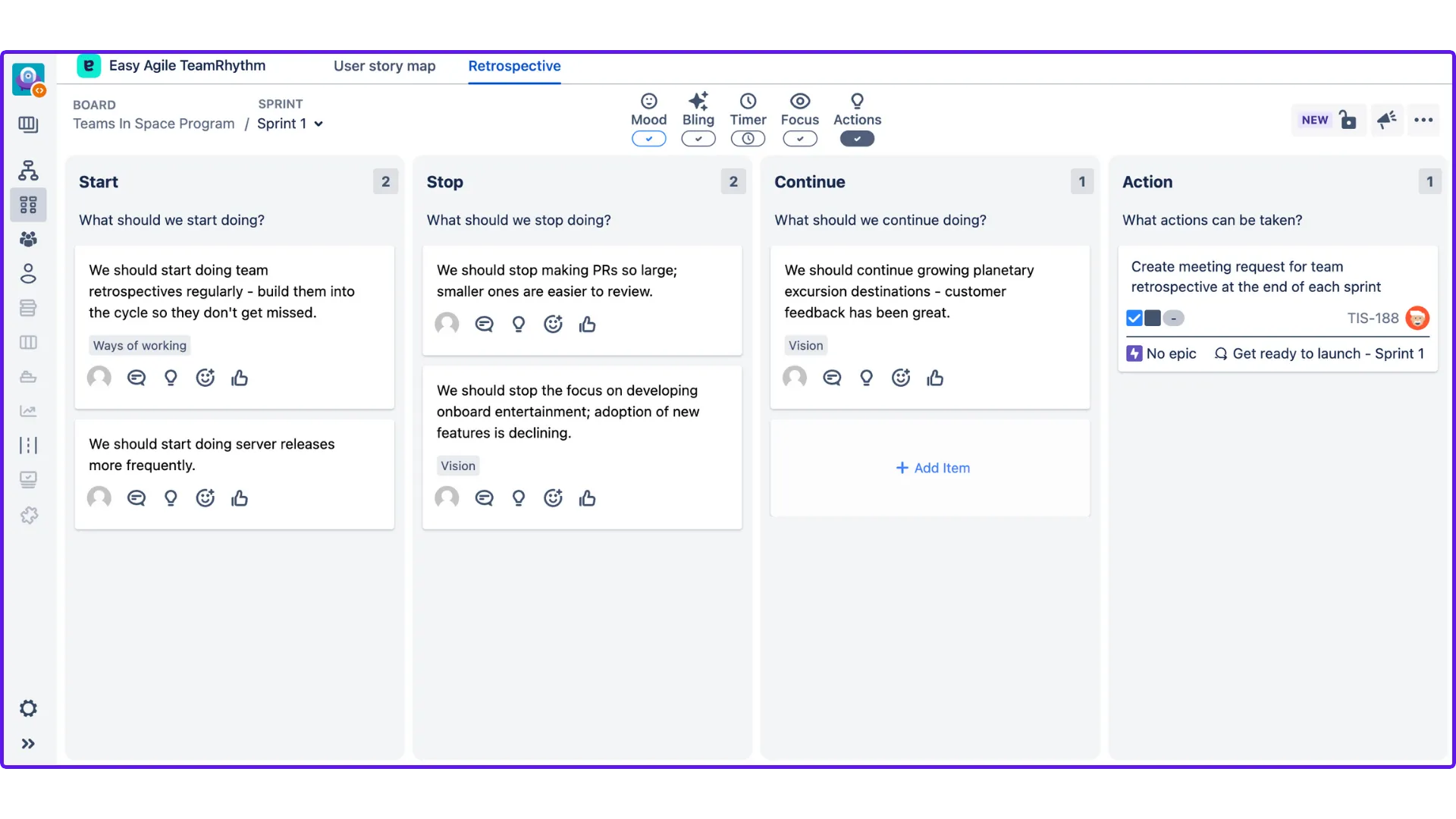 Although ProductGo does not include the retrospective feature built-in the app, we have another solution for this which is the AgileBox: Agile Planning Poker, Retrospectives, Daily Standup for Jira. 
Customization Options
For the customization options, ProductGo is more advanced than TeamRhythm. ProductGo gives users the ability to customize the color for each card on the story map, which allows users to make the story map unique or highlight their issues.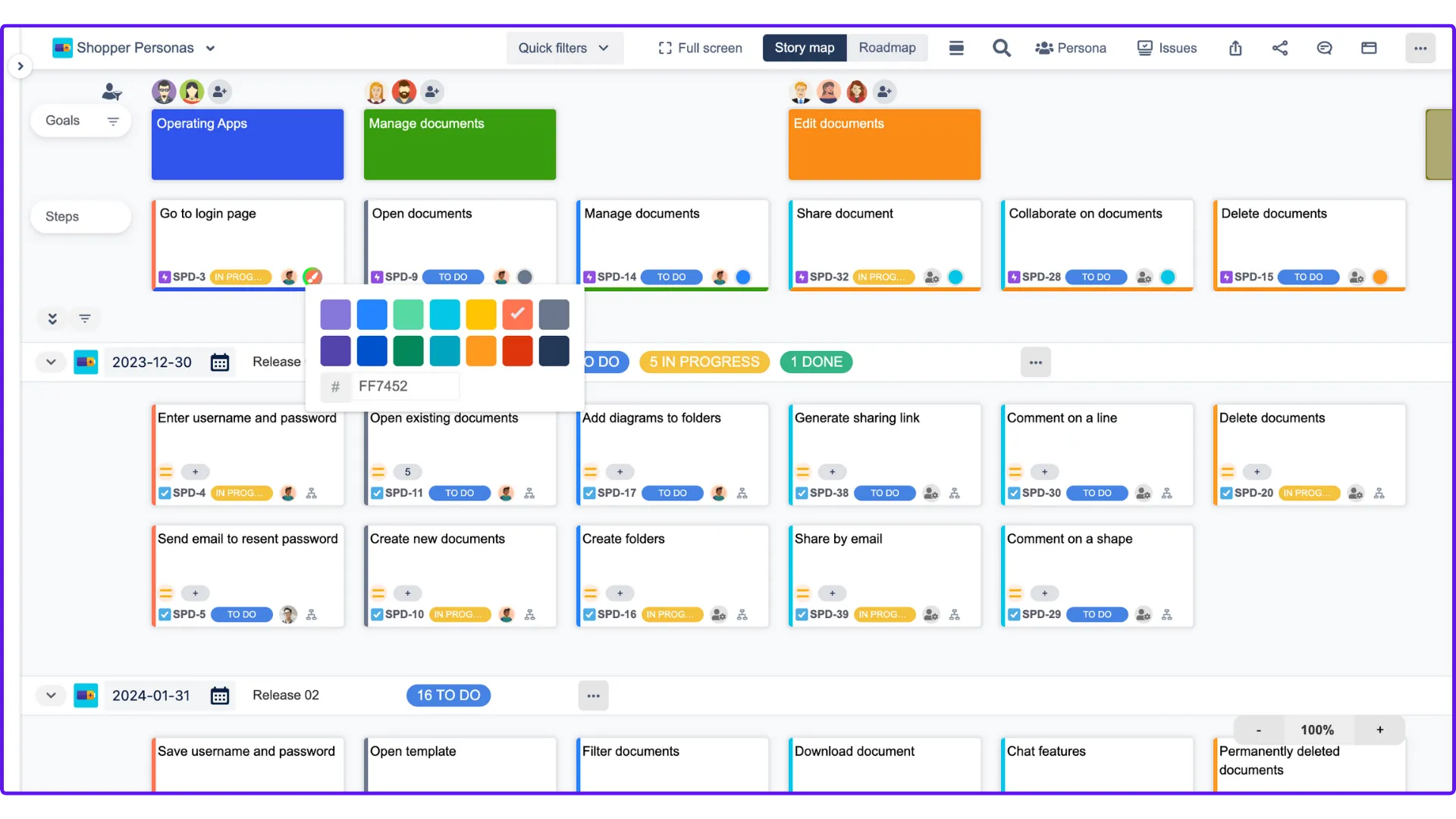 ProductGo also allows users to move the issues from Goals or Epics levels directly on the story map board by drag and drop. 
Jira & Confluence Integration
ProductGo offers robust integration with Jira, enabling bidirectional synchronization of user stories, issues, and release/sprint. This integration facilitates seamless collaboration between product managers, developers, and other stakeholders. Easy Agile TeamRhythm also integrates seamlessly with Jira by enabling bidirectional synchronization of user stories, epics, and initiatives.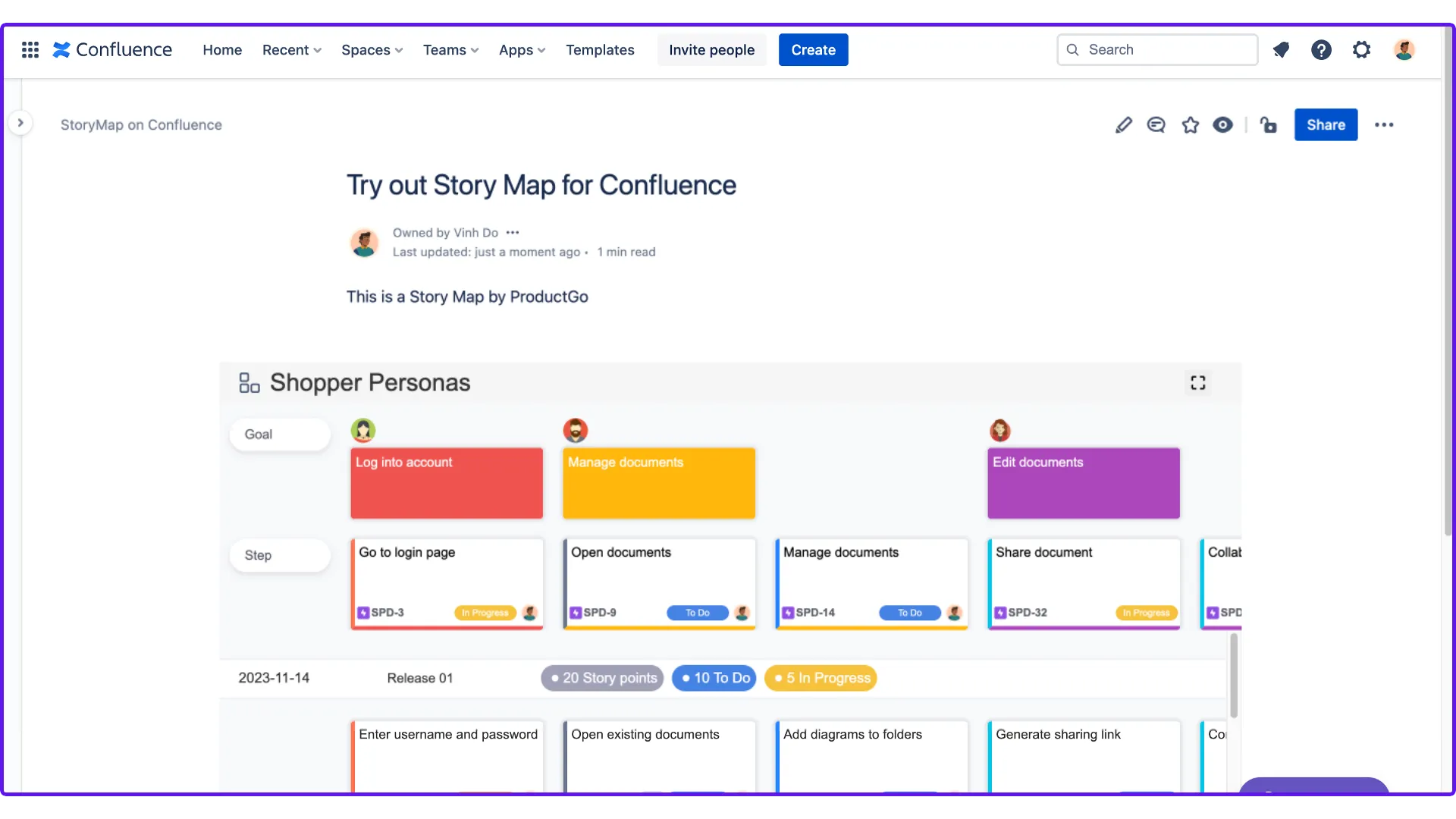 Furthermore, ProductGo integrates with Confluence as well, allowing users to export user story maps and roadmaps as Confluence pages for easy viewing and sharing. Easy Agile TeamRhythm cannot be shown on the Confluence page.
Pricing and Plans
Both ProductGo and Easy Agile TeamRhythm also provide users with a free trial plan for the first 30 days. Users can also use these apps free forever for up to 10 users on a Cloud version.
After the free trial, the price of ProductGo is quite reasonable when compared to the one that comes from Easy Agile for both Cloud and Data Center versions. You can take a look at the below table:
| | | |
| --- | --- | --- |
| | ProductGo | Easy Agile TeamRhythm |
| Cloud (Up to 100 users) | $125 | $280 |
| Data Center (Up to 100 users) | $800 | $2,800 |
In terms of value for money, ProductGo's pricing is generally considered more affordable than Easy Agile TeamRhythm's. Ultimately, the choice between Easy Agile TeamRhythm and ProductGo depends on the specific needs and budget of the team. 
Take a look at the price details here: ProductGo & Easy Agile TeamRhythm
Pros and Cons of Using ProductGo vs. Easy Agile TeamRhythm
In the dynamic world of agile product development, selecting the right user story mapping tool can significantly impact team efficiency and collaboration. While numerous options are available, two prominent tools, ProductGo and Easy Agile TeamRhythm, stand out for their comprehensive features and user-friendly interfaces. To make an informed decision, let's delve into a comparative analysis of these two leading contenders.
ProductGo
✅Pros

Affordable pricing, especially for small teams

Easy-to-use interface

Solid core user story mapping features

Seamless Jira and Confluence integration

Offer a wide range of features

❌

Cons

Lack of Retrospective feature

Limit usability for teams that don't use Jira
Easy Agile TeamRhythm
✅Pros

Retrospective supported

Easy-to-use interface

Seamless Jira integration

Simple and focus on user story mapping

❌

Cons

More expensive than ProductGo

Lack of some of the additional features

Limit usability for teams that don't use Jira
Key differences
ProductGo offers more affordable pricing options, making it an attractive choice for organizations with budget constraints, while TeamRhythm is relatively more expensive.

ProductGo offers a wide range of features, including user story mapping, roadmaps, and persona management. It's suitable for teams seeking a comprehensive tool. While TeamRhythm offers 2 features including user story map and retrospective.

ProductGo provides advanced customization options, allowing users to personalize the appearance of their user story maps, while TeamRhythm doesn't have customization options.

ProductGo integrates seamlessly with Confluence, enabling users to export user story maps and roadmaps as Confluence pages for easy sharing and documentation. TeamRhythm cannot be directly shown on Confluence pages.
Conclusion
Selecting the right user story mapping tool is akin to choosing a compass for a journey—it profoundly influences the course and outcome of your Agile projects. In this comprehensive analysis, we've explored two formidable contenders: ProductGo and Easy Agile TeamRhythm, both equipped with strengths and weaknesses that cater to various Agile needs.
The choice between ProductGo and Easy Agile TeamRhythm hinges on your team's specific requirements, preferences, and budget constraints. Whether you prioritize affordability, a comprehensive feature set, or a user-friendly interface, this analysis equips you with the knowledge needed to select the ideal compass for your Agile journey.