Agile Capability vs Feature vs Epic
The business world is quickly changing, and now around 71% of US companies use agile projects and have a success ratio of 64%. If you are working in a Scaled Agile Framework, also known as SAFe, you should know about agile capability, features, and epic. A firm grasp of these terms enables you to complete the product development process efficiently.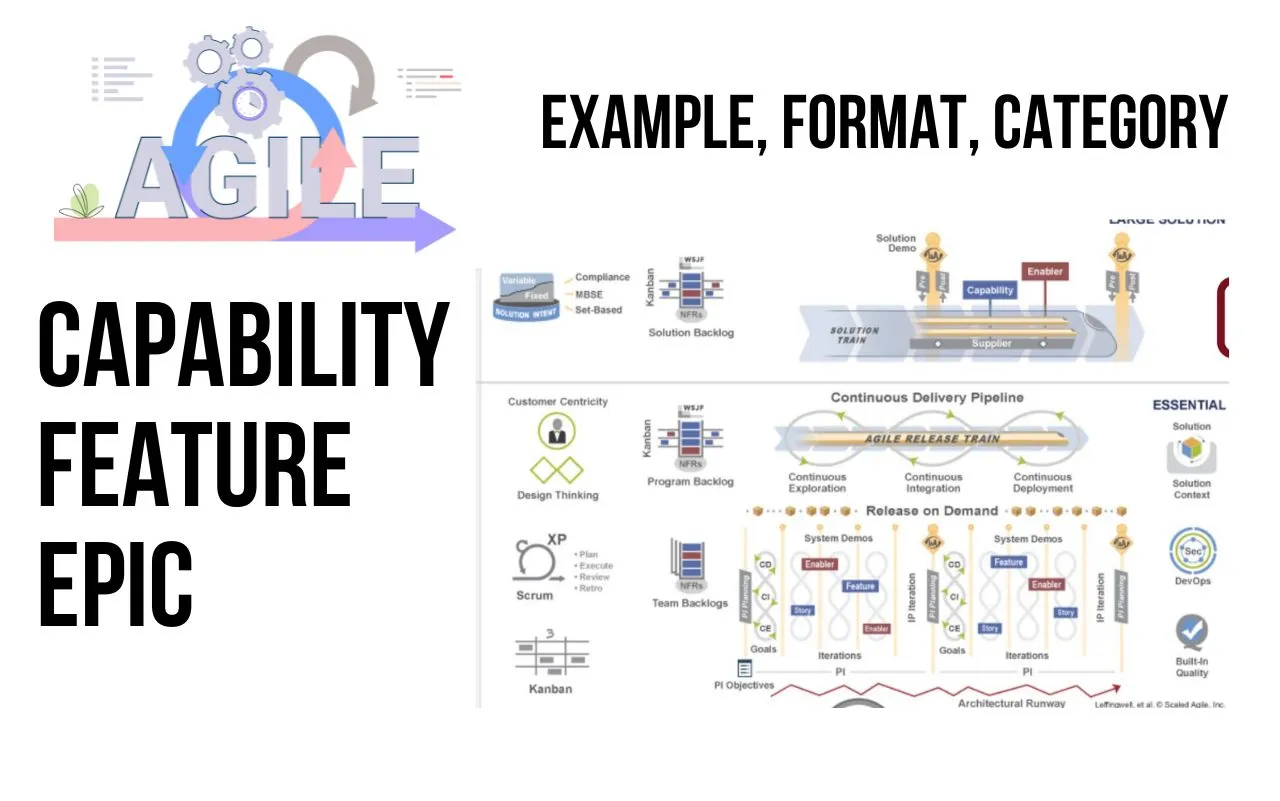 Let's discuss the difference between agile capability vs feature vs epic;
What is Agile Capability?
Agile capability refers to the associated working of agile experts to bring agile transformations. The difference between agile capability and agile feature is that the former needs more than one agile train to coordinate and complete the work before handing it to the customer. While in the latter, one work item is delivered to the customer via single-release train.
Typically, agile capabilities are items that exist on a large solution level, spanning over multiple ARTs in a Scaled Agile Framework. The solution manager first creates these, and as they are too big to deliver in one go, they are classified into small parts called features. Everyone from the product and solution manager to engineers and architects divides a capability into different parts.
Format of Agile Capability
The agile capability format is very much similar to that of the agile feature:
Phrase: It's a brief description or definition of the capability.
Benefits Hypothesis: A statement about the benefits of the capability and what it'll provide.
Acceptance Criteria: Additions will be made until the product manager, who's responsible for creating features, has an understanding of the requirements. This helps him develop suitable features to be implemented by ARTs.
Categories of Agile Capability 
Generally, there are two categories of agile capability:
Enabler Capabilities: These don't directly benefit the stakeholder or customers. Instead, it's helpful in completing work that assists in implementing other business capabilities or features.
Business Capabilities: As the name suggests, business capabilities directly benefit a business or its users or customers.
What is an Agile Feature? 
Typically, a feature is a service or function that caters to the needs of stakeholders. Not only this, but in agile methodology, a feature also offers great value to the customers or end users. These are usually created by the product manager for an Agile Release Train, also known as ART.
As each feature is a large chunk, working directly on it can be difficult. That's why these features are divided into smaller portions called user stories. A user story also is written considering a user's perspective and how specific functions of a feature can provide value to the customers.
Format of an Agile Feature
The format of a feature is very much similar to agile capability with an addition of a few things. Here is the format of an agile feature that helps in defining them accurately:
Benefit Hypothesis: This tells the users about the benefits they will get from a specific software or product functionality.
Acknowledge the Business Value: Multiple ways help you estimate your business value. For instance, you can tally the value of assets, calculate a value based on previous revenues, etc. Other things to consider are feature usage frequency, time of feature release, etc.
Description: You should share the feature context and how users are going to benefit from it. The description should focus more on the customer needs and not on their implementation.
Acceptance Criteria: The conditions under which a feature is considered complete should be clarified. It's because completing an agile feature helps determine product development progress.
Prominent Characteristics of a Feature 
Let's look at the most prominent characteristics of a feature in the agile method:
Should provide users and businesses with an unbiased value that can be measured easily.
It's supposed to be small enough to suit program increment and mark it complete. At the same time, it should be large enough to do justice to the efforts of the agile team or administration.
Scrum is the most used Agile Framework and is used by almost 61% of respondents. A feature should be easily tested by the product management team both manually and automatically.
What is an Agile Epic?
In capability vs feature vs epic, the epic is known as the large body of work that is divided into smaller chunks called tasks or stories. In simple words, you can consider agile epics as a series of small tasks that help you complete a large project. Each epic has an epic owner, who can be anyone with proper product knowledge.
These owners track the progress of Epic and help in making necessary changes at certain stages. Generally, an agile epic is supposed to give the product development team a complete roadmap to be successful.
Format of an Agile Epic
Here's the format of an Agile epic that you should follow:
Name the Epic
Epic Owner Name
Description: A text describing what this epic is, who's it for, and also what benefits it has to offer. Additionally, it should be clear and concise.
Business Results: The expected outcomes from a specific epic.
Leading Indicators: These early measures help validate the benefits hypothesis.
The proper following of the epic format is necessary to get it approved. Once an epic is approved, it starts queuing until it turns into capabilities and features.
Categories of an Agile Epic
Below are the categories of an agile epic:
Solution Epic: It's easily deliverable by a single solution but needs more than one program increment.
Programme Epic: This can be delivered by a single ART but also requires over one PI.
Conclusion
In capability vs feature vs epic, all are important, and you should know about all this to make the agile methodology successful. Additionally, to keep track of everything and to interact with teams more easily, Agile User Story Map is an excellent tool. With this, you can collaborate with engineers, architects, product and solution managers, etc. This helps you create suitable features, capabilities, and epics to streamline product development.